Location: 41.80548°N 71.42995°W
Get Directions
Site Description: Located in the West End neighborhood of Providence near Bucklin Park along Linwood Ave, this site is a tree filter designed by Groundwork, Rhode Island. This tree filter, fills with stormwater during rain events. The soil and tree filter pollutants from incoming stormwater as it drains into the ground. The tree also provides co-benefits to the community such as heat reduction and beautification. Stormwater enters the site through a curb cut along Linwood Ave. Stormwater then accumulates or ponds in the tree filter area. When the system reaches full capacity, excess stormwater will flow out the downstream curb cut, back onto the street and into the storm drain. The captured stormwater should absorb into the soil within 24-48 hours after a rain storm.
Photo-Video Tips: Stand near the curb cut on Linwood Ave. Document with video whether stormwater is flowing into the tree filter through the curb-cut. Also document that the tree filter is full of water, draining properly and not flooding the roadway.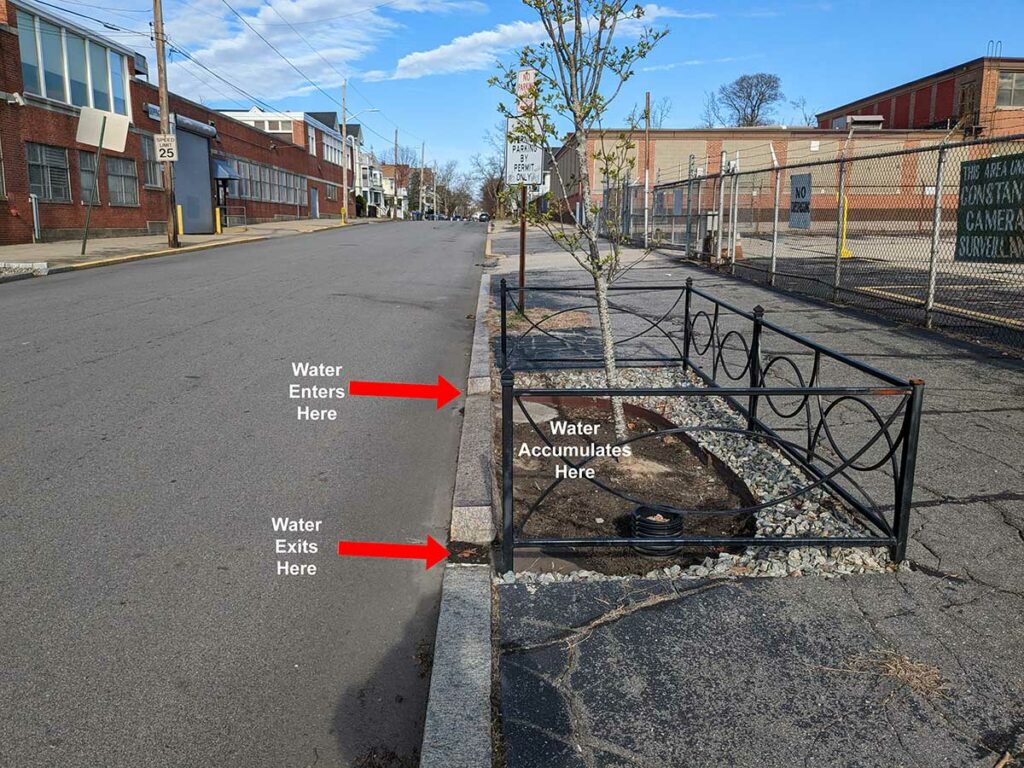 Reports 1 to 2 of 2
Observation on 10/21/2023: 4:50pm -
How recently did it rain: Raining at the time
How heavy was that rain: Heavy Rain
Is anything preventing water from flowing into the system (e.g., debris, trash, vegetation): Yes
Is there standing water in the system: No
Notes/Comments:
Leaf debris blocked entrance on both sides of the street. Removing them opened the flow. Heavier water flow in gutters on one side of the street due to slope.
Observation on 7/10/2023: 1:00pm -
How recently did it rain: Within the last hour
How heavy was that rain: Heavy Rain
Is anything preventing water from flowing into the system (e.g., debris, trash, vegetation): Yes
Is there standing water in the system: Yes
Notes/Comments:
At capacity. Not draining quickly enough to capture flow