Location: 41.83600°N 71.37976°W
Get Directions
How recently did it rain: Within the last hour
How heavy was that rain: Heavy Rain
Is anything preventing water from flowing into the system (e.g., debris, trash, vegetation): No
Is there standing water in the system: Yes
Notes/Comments:
At the time these videos and photos were taken, it had heavily rained for about an hour and a half, but the rain had slowed down. Because of this, it was unclear whether runoff was properly flowing into the storm drain, but we can assume it was because the forebay and infiltration area were both full. The water level in the infiltration basin had almost reached the overflow drain, but not quite. It is unclear whether it was because of this rain event, or because of a recent extremely heavy storm over the July 4th holiday, but it appears that planted material in the weir area had slid into the infiltration area, leaving a large pile of sediment/soil which is visible in the recording.
Images and Videos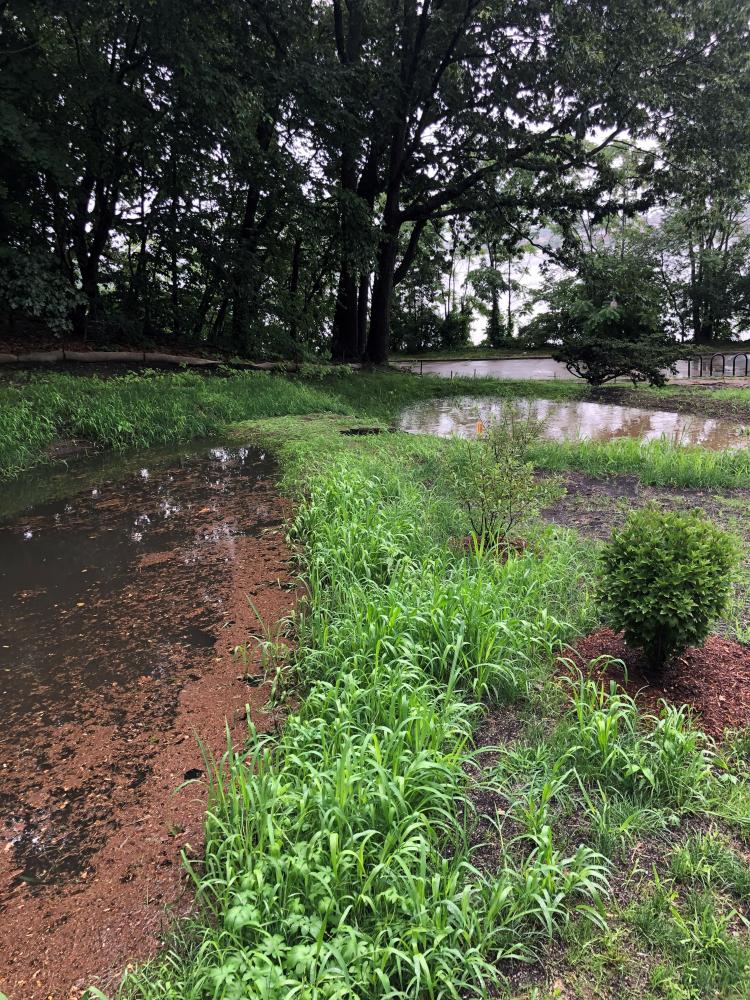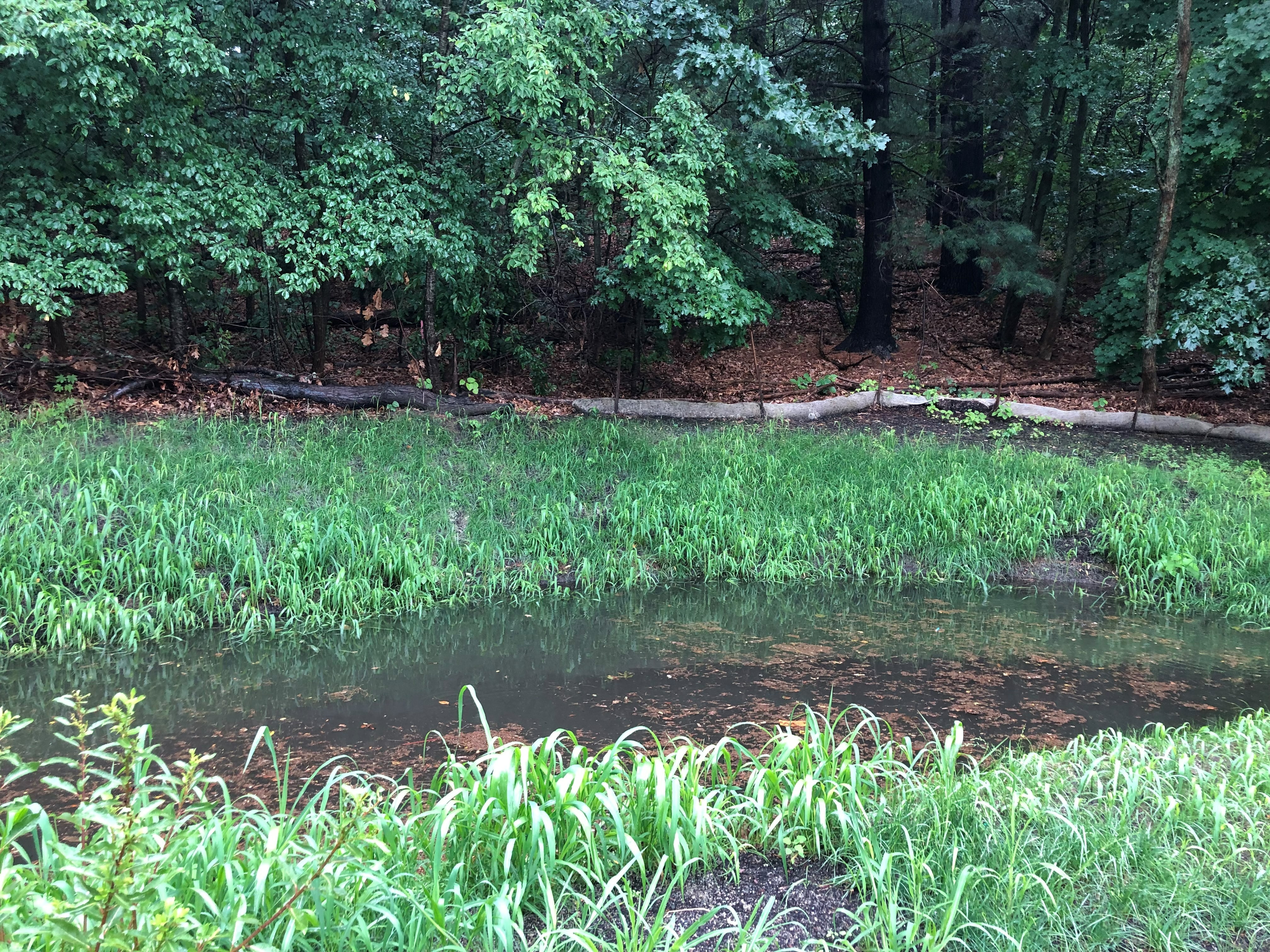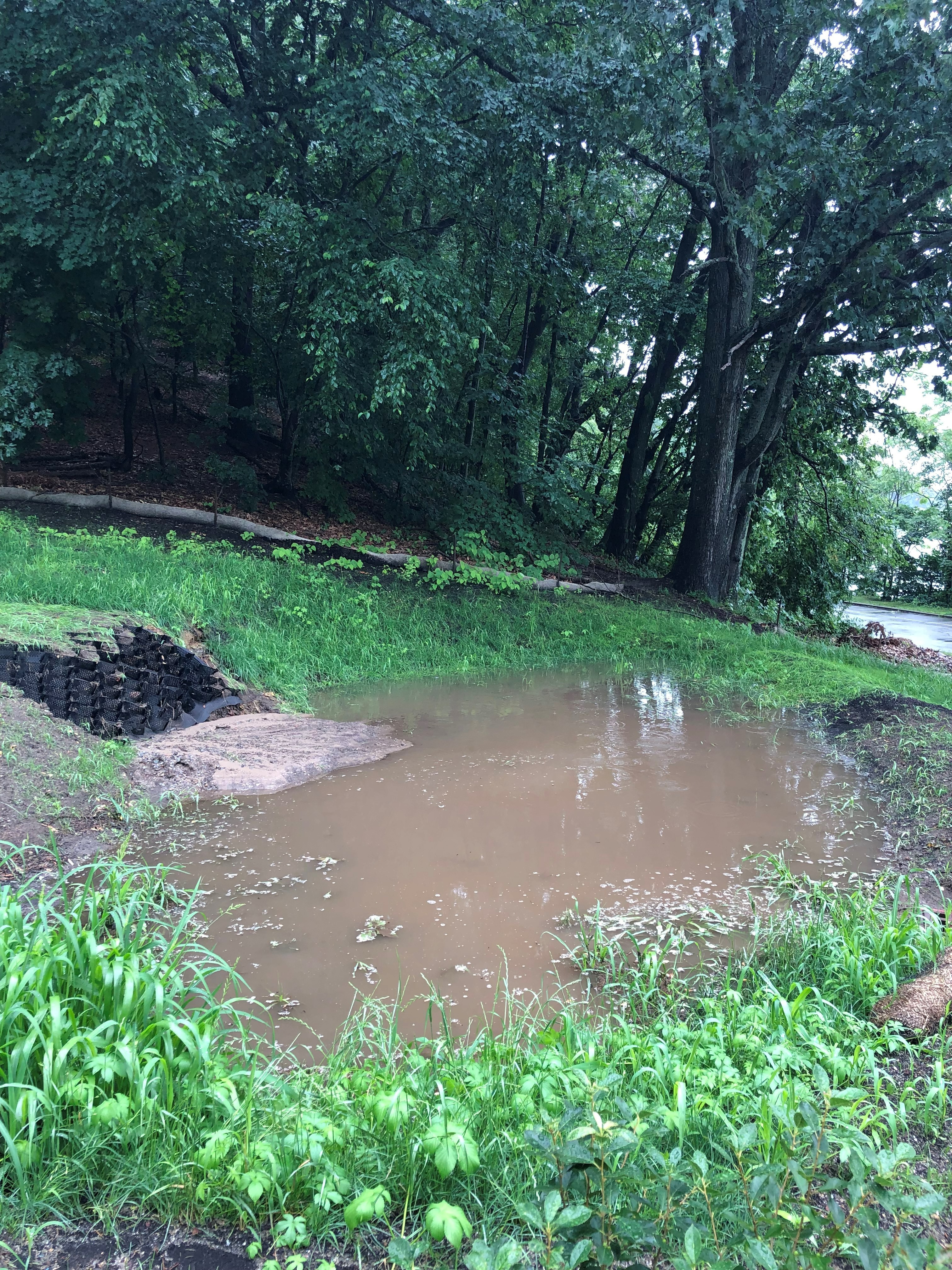 Weather Data
Precipitation Data from nearby CoCoRaHS stations:
| | |
| --- | --- |
| 7/9/2023 | 0.00" at station: RI-PR-67 (0.78 miles W) |
| 7/10/2023 | 0.30" at station: RI-PR-67 (0.78 miles W) |
Note: CoCoRaHS data is usually collected between 6 and 8am so data listed as being from a given day are actually from 6 to 8am on that day through to 6 to 8am on the following day. Also, stations do not necessarily report every day so a station that has data on one date may not on another.
Precipitation Data from T.F.Green Airport (7.77 miles S)
Rainfall in the hour ending at the time listed.
7/9/2023
7/10/2023
1am
0"
0"
2am
0"
0"
3am
0"
0"
4am
0"
0.031"
5am
0"
0"
6am
0"
0"
7am
0"
0.15"
8am
0"
0.091"
9am
0"
0"
10am
0"
0"
11am
0"
0"
12am
0"
0.142"
1pm
0"
0"
2pm
0"
0"
3pm
0"
4pm
0"
5pm
0"
6pm
0"
7pm
0"
8pm
0"
9pm
0"
10pm
0"
11pm
0"
12pm
0